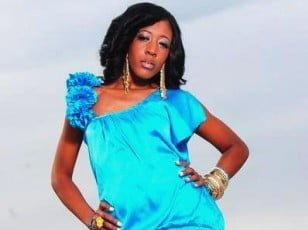 Torica is a Singer/Songwriter out of Atlanta whose star is on the rise. Torica has already had a feature on Field Mob's Grammy-nominated "Sick of Being Lonely" along with writing songs for platinum selling artists like Monica. Larren Cosby from Fever Magazine sat down with the South Carolina Native to discuss her experience in the industry, working with Bryan Micheal Cox, and where she gets her inspiration for her songs.
Who is Torica?
Torica: Who am I? I'm a singer, songwriter, vocal producer, single mother, and entrepreneur.
What sets you apart from all the other female artists currently out there?
Torica: I'd definitely say my experience in this business has taught me, it's more important to be yourself than a perception or illusion of who people think you are. I think a lot of people get caught up in the pressure of being perfect or being inhuman, it's unrealistic. I think I bring a since of realism that a lot of people have lost touch with. I think that distinguishes me from a lot of people, because at the end of the day, we are all singing and writing about the same material, it's just our perception, our angle, and our prospective.
When song writing do you only pull from personal experiences or do you write about others also?
Torica: I draw from experiences I have and experiences that people share with me. Sometimes its fictitious, to the degree that I may be driving down the highway and see a billboard or listen to a commercial and something just sparks. I'm like oh that would be a nice concept let me try to indulge on that and come up with a song.
What are you more passionate about singing or songwriting?
Torica: Um the question of the day dun dun duh. I would definitely say as much as I love singing, I love songwriting. Singing in terms of performance, actually being at a show and rocking out with people that appreciate your music is an exhilarating experience. Writing allows me to express and exercise things about myself that are an extension of me that may not necessarily be me. As a singer when I'm on stage, I'm being myself and people get a direct connection for me. Through my songs I can take myself out of it, and write for someone else. I would say equally for different reasons.
Of all the songs you have written which one is your favorite and what's the story behind it?
Torica: I actually wrote a song for Monica and it's going to be on her new album releasing in October. The song is about, if you had an opportunity to go into my life for one day, you would understand who I am and why I make the decisions I make. Accept me for me I'm only human I'm not perfect, neither are you no one is.
How was it like working with Bryan Michael Cox?
Torica: It's the best! I'm actually going to the studio to work with him today. We are like family, I've known him for a long time. He wasn't in the position to sign me as a writer when we first met, because he was trying to establish himself as a brand as a producer. It was a long time coming, he always said I believe in you and when I get the opportunity I'm going to bring you on the team. Working with him, I learn so much about the craft of music and what goes into the process. His thing is not about how fast you finish the session; it's how complete and how high in quality the work is. It's definitely taught me to appreciate quality over quantity. Bryan is a musical genius; he knows how to play everything. He knows so much about music in terms of all genres rock, soul, old school, R&B, pop, country, blues, and alternative; his musical library in his head is crazy.
What artist currently on the radio or billboard hot 100 would you like to get a placement with?
Torica:
Definitely something on Mary, I like Keyshia Cole. I feel like
Beyonc'e
is in a place where she's not ready to put another album out yet. I have to wait to see what she's going to do, after she gets off tour, but she's someone I would definitely like to work with. Avril Lavigne, Lady Gaga, I'm a fan of so many different people so it's hard to really narrow it down.
This question is kind of a weird one I don't know if you watch The Real Housewives of Atlanta, out of all the characters which housewife would Torica be?
Torica: This is an interesting question, so I'm going to give you an interesting answer. If I was to be a Real Housewife of Atlanta, I am real and authentic in terms of saying what I think, and being honest and open maybe not to the brutality of this character. I have to say I have the realism of Nene. I have Sheree's international fashion sense. I have the work ethic and hustle of Lisa. Obviously I love singing, so that fire for singing is something I would draw from Kim and Candy is someone that inspires me just because she's so successful doing what it is I'm doing. I definitely would take elements from all of them.
What would you tell young girls about pursuing their dreams?
Torica: Be passionate study what it is that you want to do, so that you can find out how to be the best at it. A lot of time people say I wanna sing, I wanna write, I wanna do this, or I wanna do that, but they don't know the first thing about even approaching the idea. It's one thing to be a dreamer, but be realistic. Reach for things that are achievable, things that you can achieve in small steps. Not wanting a dream so much that you have to compromise yourself. Never let anyone make you think in order for me to help you with this, you have to do that.
What is your favorite quote or words to live by?
Torica: One is very true and I try to follow this in my daily life and that's "There's nothing that I can't do"
Where can we find more information on Torica and hear some of your material?
Torica: You can check me out at www.myspace.com/toricasinger, I'm also on Twitter. I do check my own MySpace, Twitter, and Facebook. My Twitter is Twitter.com/Torica and you can go to YouTube I have a channel ToricaTV and you can Google me.