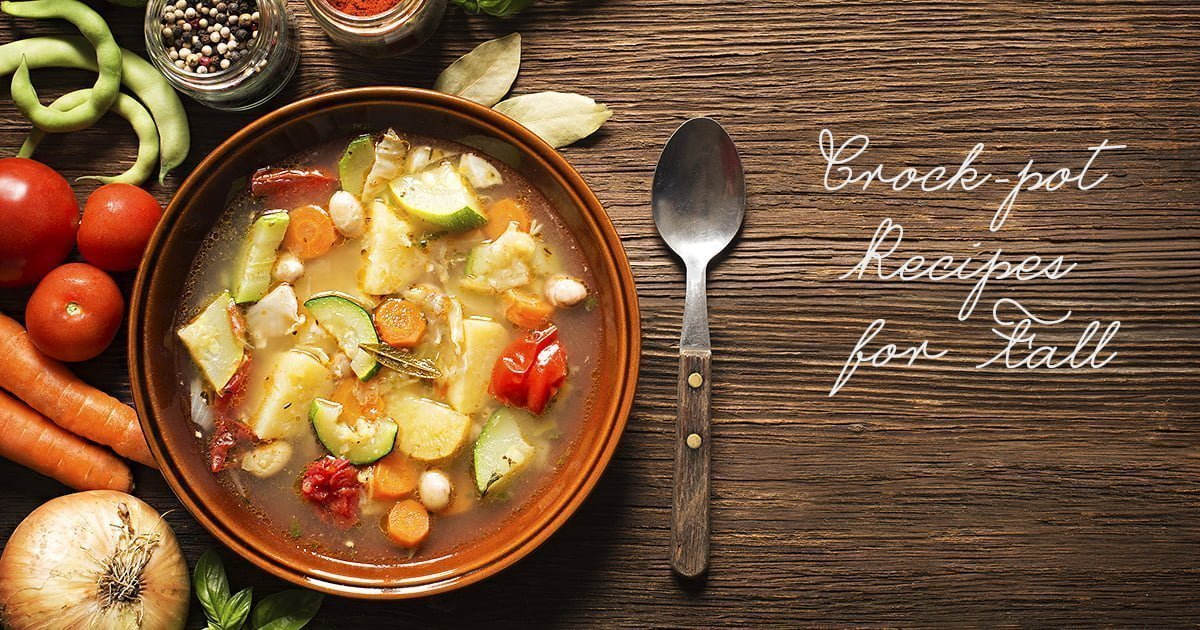 Like the weather, and scenery change outside so do the meals we serve inside. Looking for a light and fresh fall meal to place in front of your family to enjoy? Here are some of the easiest, fast recipes that you want to cook up and indulge in while conversing with your family at the dinner table.
Check out a few of Fever's favorite go to's for a nice Family Fall meal that is quick and easy from the stove to a crockpot.
Slow Cooker Chili
Ingredients
2

 

Tbsp

 

olive oil, 

divided

1 1/2

 

lbs

 

lean ground beef 

(preferably 90% lean)

1

 

medium

 

yellow onion,

 

chopped (1 1/2 cups)

1

 

medium

 

green or red bell pepper,

 

cored and chopped

3

 

cloves

 

garlic,

 

minced (1 Tbsp)

1 1/2

 

Tbsp

 

chili powder

2

 

tsp

 

ground cumin

2

 

tsp

 

paprika

1

 

tsp

 

coriander

3/4

 

cup

 

low-sodium beef broth

1

 

(28 oz.) can

 

diced tomatoes

1

 

(15 oz.) can

 

tomato sauce

2

 

tsp

 

unsweetened cocoa powder

 

(this just adds a little richness)

1

 

tsp

 

granulated sugar

Salt and freshly ground black pepper,

 

to taste

2

 

(15 oz.) cans

 

kidney beans (preferably one dark one light),

 

drained and rinsed
Instructions
Press the saute setting on the Instant Pot. Once it reads "hot" add olive oil then crumble beef into large portions into the instant pot.

Let cook 5 minutes then break up and toss beef. Continue to cook, tossing occasionally until cooked through, about 5 minutes longer.

Transfer beef to a plate lined with paper towels set aside.

Add remaining 1 Tbsp oil to Instant Pot then add in onions and bell pepper and saute 3 minutes.

Add garlic, chili powder, cumin, paprika, and coriander and saute about 1 minute longer.

Pour in beef broth, tomatoes, tomatoes sauce, cocoa powder, and sugar. Season with salt and pepper to taste.

Stir in beef, then press "cancel" to turn pressure cooker off. Cover with lid and seal (make sure the valve on the lid is set to "sealing" position).

Select "manual" mode (or high pressure) and set it to 15 minutes.

Once cooking is complete let pressure release naturally for 10 minutes, then use the quick release method to release any remaining pressure.

Once steaming stops stir in beans (they'll heat through almost instantly).

Serve warm with desired toppings such as cheddar cheese, green onions, sour cream, and saltine crackers.

Recipe source: Cooking Classy
Slow Cooker Shrimp Boil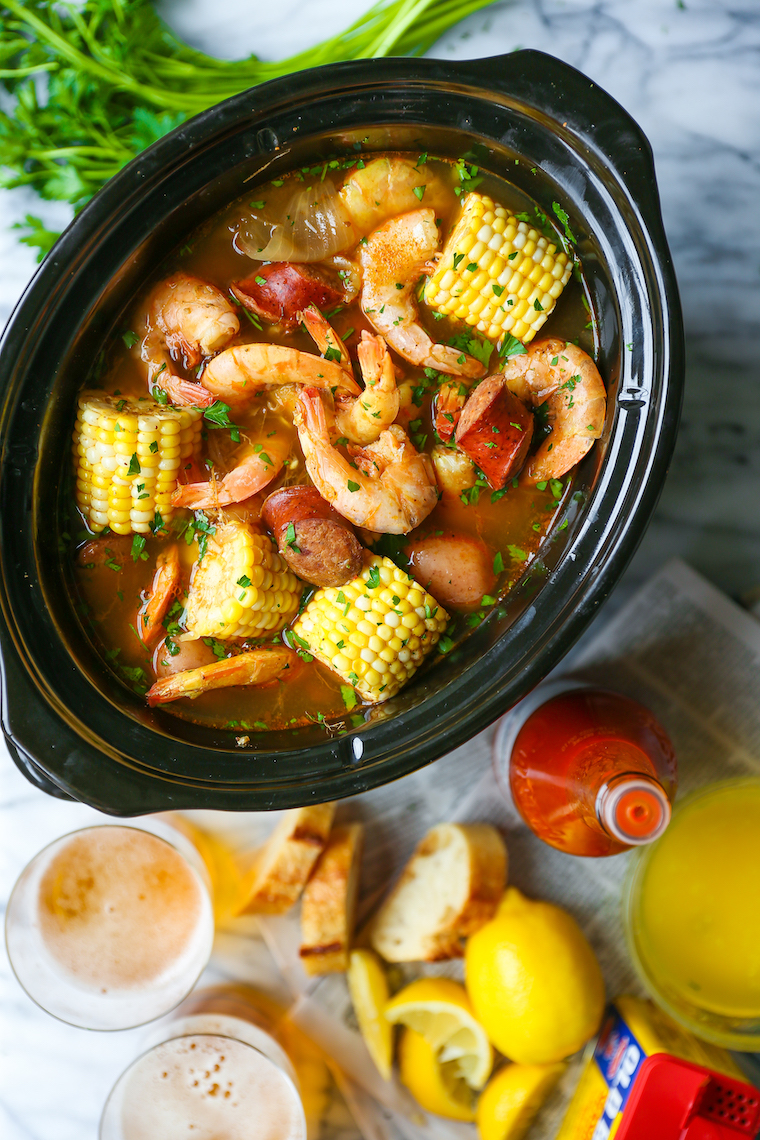 Ingredients:
1/4 cup Old Bay seasoning
2 tablespoons freshly squeezed lemon juice
1 tablespoon hot sauce, optional
1 1/2 pounds small red potatoes
1 medium sweet onion, cut into wedges
1 head garlic, halved
2 bay leaves
1 (12.8-ounce) package smoked andouille sausage, cut into 1-inch pieces
3 ears corn, each cut crosswise into 3 pieces
2 pounds medium or large shrimp
2 tablespoons chopped fresh parsley leaves
Instructions:
In a large bowl, whisk together Old Bay seasoning, lemon juice, hot sauce, and 6 cups water; set aside.
Place potatoes, onion, garlic, and bay leaves into a 6-qt slow cooker; stir in Old Bay seasoning mixture.
Cover and cook on low heat for 3-4 hours, or until potatoes are almost tender.
Stir in sausage and corn; cover and cook on high heat for 30 minutes. Set corn aside; keep warm.
Stir in shrimp. Cover and cook on high heat, stirring twice, until shrimp is opaque and pink, about 20-30 minutes; drain well.
Serve immediately, garnished with parsley, if desired. Great Fall Meal!
Slow Cooker Sausage Stuffing
Ingredients:
French bread
Unsalted butter
Yellow onion
Celery
Fresh rosemary, sage, thyme, and parsley
Salt and pepper
Chicken broth
Italian sausage
Instructions:
Dice the French bread and place it inside the slow cooker insert. Let it sit overnight to dry out. The next day, add the butter, onion, celery, rosemary, sage, thyme, salt, pepper, chicken broth, and stir to combine. Crumble the Italian sausage over the bread mixture (no need to brown it first).
Cover and cook the slow cooker stuffing on low for roughly 4 to 5 hours, or until the vegetables are tender and the sausage is cooked through. Stir the sausage into the bread mixture, then give the sausage stuffing a taste and add more salt, pepper, or desired herbs as you deem necessary.
Sprinkle the parsley onto the sausage dressing and stir to combine. Let the slow cooker stuffing cook for another 5 minutes before serving.
Recipe Credit: averiecooks.com
Which Fall Crock recipe will you be preparing for your family?