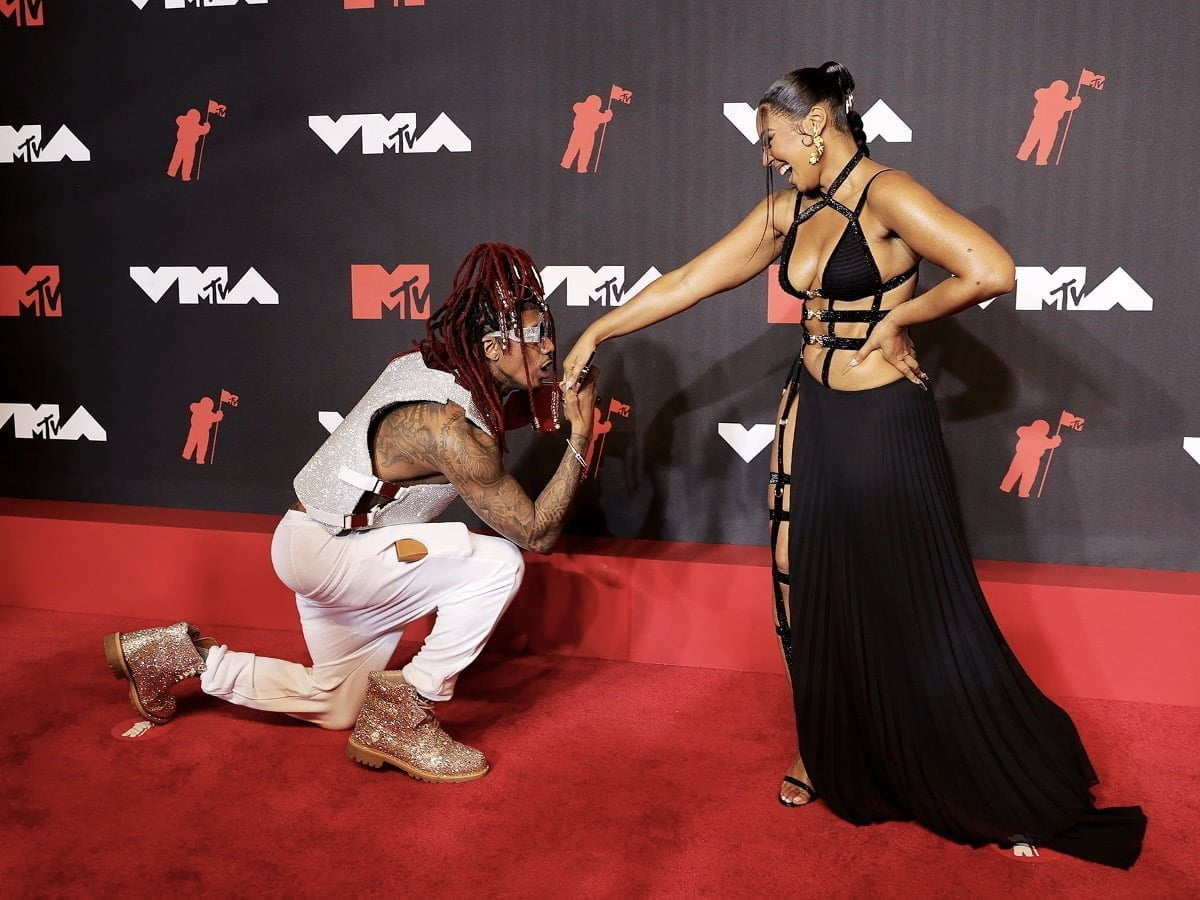 If you check out reports about the 2021 MTV Video Music Awards, you will find many stories about Nick Cannon's funny behavior at the recently concluded event.
The 40-year-old comedian stole the show as he and Ashanti Shequoiya Douglas, or Ashanti for short, crossed paths on the red carpet. First, you are not alone in noticing Nick Cannon's outfit for the star-studded 2021 MTV Video Music Awards.
He turned heads for wearing a sparkly vest, white pants, and diamond-encrusted boots. The heavily tattooed Mr. Cannon made himself more eye-catching and unforgettable with his red braids, shiny sunglasses, and accessories like a stack of cash in one of his hands and a red cup in the other.
However, what made Nick Cannon's fans go crazy was when he got down on one knee and kissed Ashanti's hand on the red carpet of the awarding ceremony held in Barclays Center, Brooklyn. As you know, the father-of-seven is known as everybody's favorite serial baby maker.
Fans believe Nick Cannon's behavior towards Ashanti during the 2021 MTV Video Music Awards was his way of trying to shoot his shot with the 40-year-old beautiful Glen Cove, New York-born songbird. When you try to recall Nick's recent comments, he pointed to the desire to have more children.
Therefore, his fans thought his action at the 2021 MTV Video Music Awards was his way of charming Ashanti into possibly spending some moments with him after the New York City music event.
Apparently, you could see the reaction on Nick's face, exhibiting that he could not help himself and was wilding out, which inevitably made Ashanti blush with his joke proposal.
In their comments, netizens begged Ashanti not to entertain Nick's gestures. One of them remarked that the stunning musician would not be in Nick's "rotation."
Another fan joked, "Run Ashanti!!!" and added pregnant emojis on their statement to emphasize to Ashanti the likely result if she goes any further with Nick's joke proposal. As you can see, Nick Cannon was really audacious with his stunt, which successfully went through.
Last update was on: August 12, 2023 6:53 pm