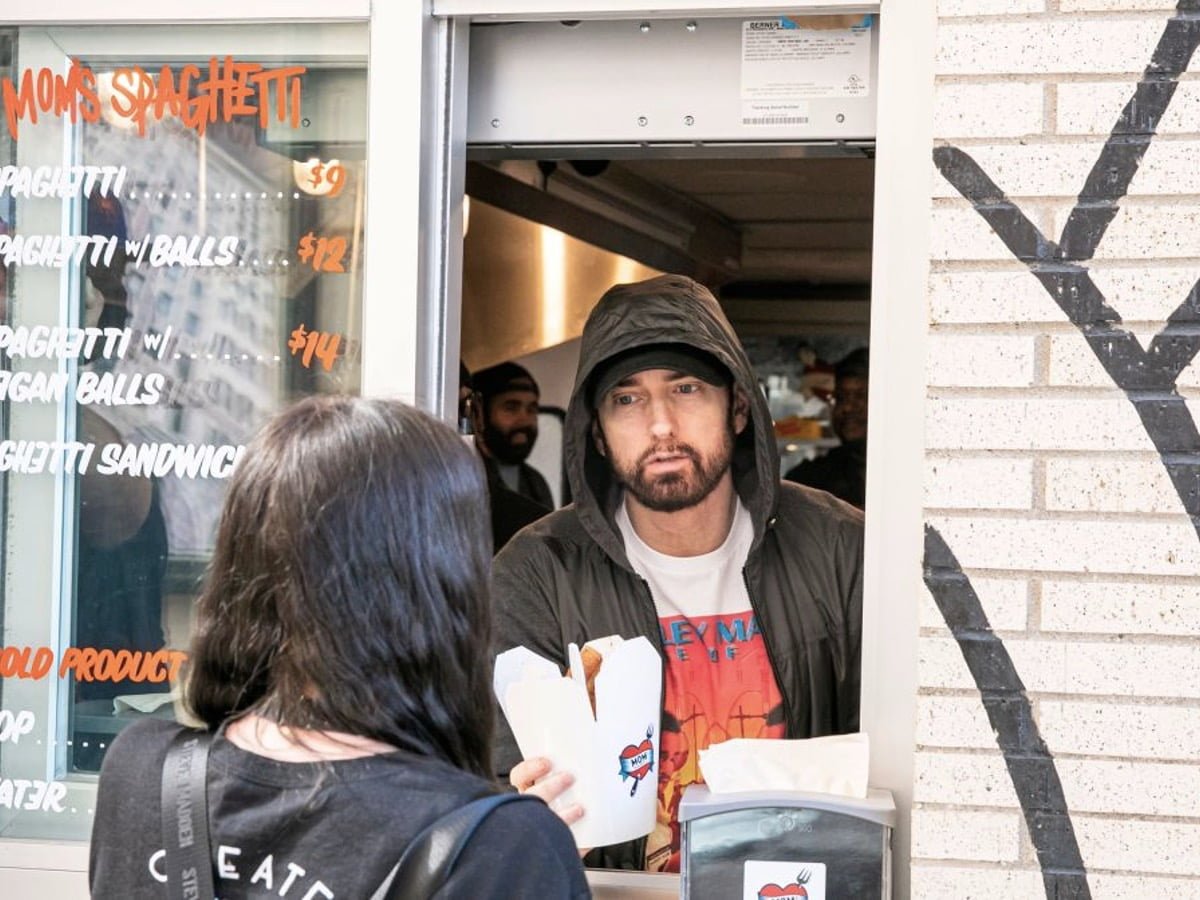 As you know, Eminem's Mom's Spaghetti restaurant opened to the public in late September. With this development in Marshall Bruce Mathers III's life as an entrepreneur, you will discover that people who loved his new business are his fans and colleagues in showbiz.
One of the latter is Hollywood actress Kim Basinger. If you can remember, this 67-year-old actress played Eminem's Mommy Stephanie Smith in the 2002 Academy Award-winning musical drama motion picture, "8 Mile."
After the grand opening of Eminem's Mom's Spaghetti restaurant, you will learn that Miss Basinger penned a brief but heartfelt note for the restaurateur-rapper. She posted it on her official Instagram account with the handle @kim.basinger.
If you are among Kim Basinger's more than 154,000 Instagram followers, you can read that she began her note to Slim Shady with the expression "Dear Rabbit." Then, the "Hard Country" star wrote that she hoped Eminem was behaving himself.
You can tell that Kim Basinger was writing to Eminem as if they were playing as mother-and-son again like they did in "8 Mile." Then, the celebrated movie star wrote that the 48-year-old Detroit rap legend would better get his spaghetti recipe correctly as it took her a long time to perfect it.
The Athens, Georgia-born celebrity, who is Kimila Ann Basinger in real life, ended her Instagram post's caption with the words, "Love, Mom." When you read this caption, it is actually the message you can find alongside an Instagram snap featuring Kim Basinger and Eminem in "8 Mile."
Delighted fans of these two showbiz luminaries who could not help but press the "like" button in the Instagram photo total exactly 15,179 Instagram users. You can tell that Eminem's Mom's Spaghetti restaurant got the love and support it needs from many supporters. You can also give this new dining place some appreciation when you head to Detroit's downtown area.
Eminem's Mom's Spaghetti restaurant actually surprised fans when the restaurateur himself was present in the opening and even served some of his fans who were at the event with spaghetti. You can try this dining place's menu items which are straightforward.
Eminem's Mom's Spaghetti restaurant offers plain spaghetti, which you can order with vegan "rabbit balls" or with meatballs. Plus, you can avail of 'sghetti sandwiches, and all of these menu items are under US$15, per NPR.org's September 30, 2021 report.
After visiting Eminem's Mom's Spaghetti restaurant soon, you may also pen Slim Shady with a lovely letter you can post on Instagram similar to what Kim Basinger did.
Last update was on: August 25, 2023 6:55 pm