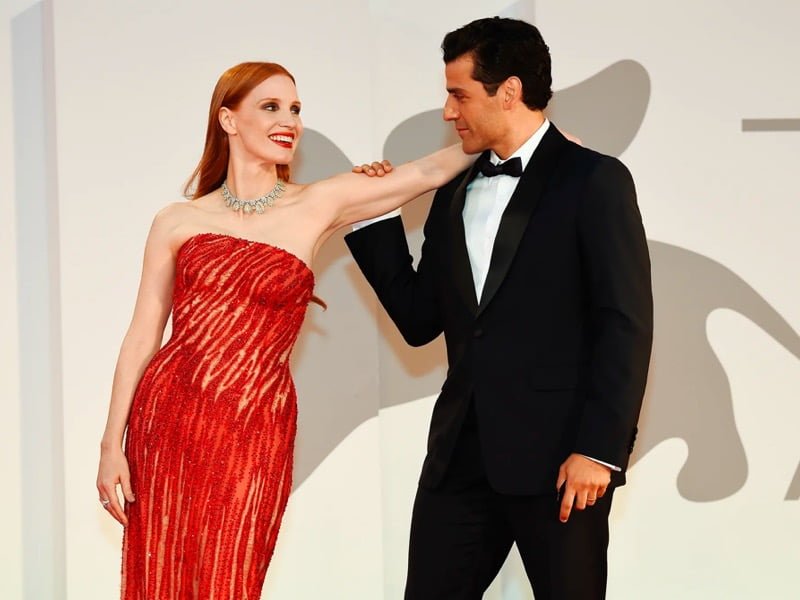 The ongoing 78th Venice Film Festival excited celebrity and movie fans after seeing Jessica Chastain's viral red carpet moment with Oscar Isaac. The two Hollywood stars were present at the event that featured their forthcoming drama TV miniseries "Scenes from a Marriage."
If you are a fan of Jessica and saw her moment with Oscar at the Venice Film Festival, you may be among those who felt thrilled. After all, the duo became the most talked-about personalities in the Italian event as a slow-motion video clip of Isaac kissing Jessica's arm took off on Twitter on Saturday, September 4.
Film critic Christina Newland shared the clip on Twitter, which has already raked in more than 214,200 likes, over 25,500 retweets, and 17,500 quote tweets on the popular social media platform as of today, September 9. Many movie fanatics commented on the pair's chemistry.
You may feel baffled about Jessica and Oscar's behavior at the Venice Film Festival. But you should not feel so because the actress offered to clarify the happening.
Jessica's official Twitter page with the handle @jes_chastain, where she has more than 838,100 followers at the time of writing, she responded with a post. She captioned it with the devil emoji and "Sept 12th," which is the release date of "Scenes from a Marriage."
Therefore, you can say that the 44-year-old Sacramento, California native and her co-star's actions in Venice were all about promoting their latest production. Jessica's September 6 Twitter post has amassed more than 56,600 likes, 4,762 retweets, and 1,964 quote tweets as of today.
At this point, you may feel like you cannot wait to see Jessica's new drama TV miniseries with Oscar. "Scenes from a Marriage" is a production by Hagai Levi, who directed, wrote, and developed it for HBO.
Jessica's new content presented at the Venice Film Festival is an English-language remake of the Swedish miniseries released in 1973 of a similar name by Ingmar Bergman. As hinted by the actress in her Twitter post, you can catch the premiere of "Scenes from a Marriage" on HBO this coming Sunday, September 12.
Last update was on: May 3, 2023 1:29 pm