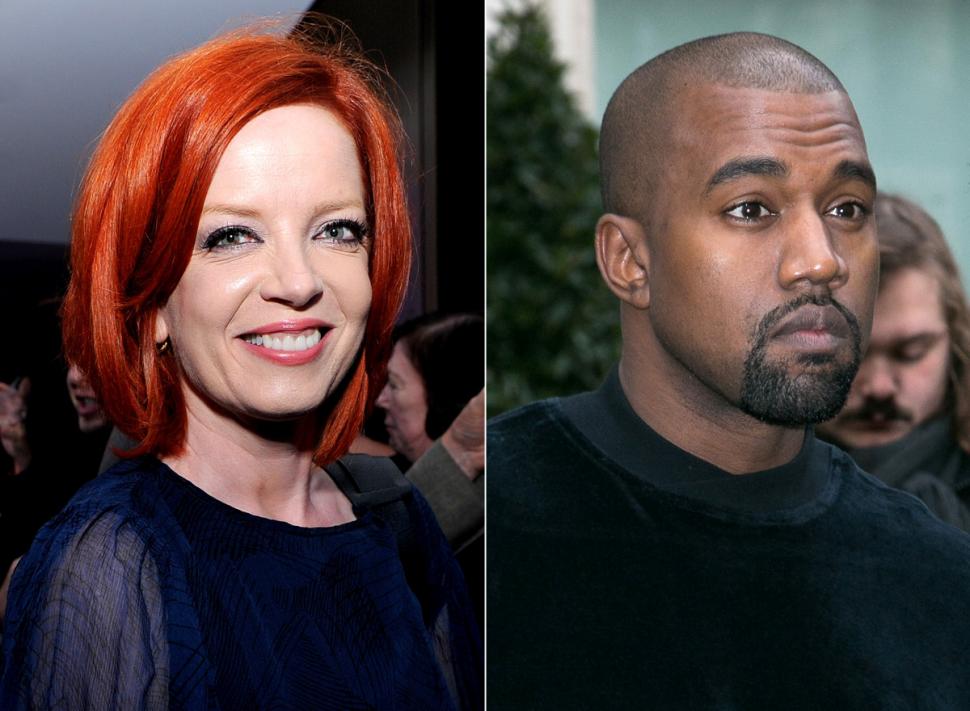 Garbage singer Shirley Manson appears to have gone on another Facebook tirade aimed at Kanye West, whom she blasted a month ago following his stage-crashing stunt at the Grammys.
Garbage singer Shirley Manson appears to be trashing Kanye West again.
One month after blasting West for stealing Beck's thunder at the Grammy Awards, the Scottish frontwoman went on another Facebook rant reportedly directed at the "Only One" singer, whom she panned as "the loudest clown in town."
The scathing message was addressed to "He who shall remain nameless" — though US Weekly and other gossip sites claimed it was aimed at West after the rapper apparently set Manson off with a private email last week.
"It is with great sadness that I read your email today," Manson wrote in the message Friday.
"Clearly you have forgotten or are just generally unaware, that in business it is always wise to be kind and respectful in your day-to-day dealings with other people. Especially those you have never met."
"What alarms me more than anything about your nasty little barbs is that you are in the business of representing artists' interests and yet you are clearly unaware that not all musicians are obsessed with the charts or being famous," she wrote.

"That some of us do not value ourselves by the number of mainstream 'hits' we have enjoyed.

"That some of us just enjoy making music and having a long lifespan of a career without having to dance as fast as we can, or be the loudest clown in town or be having to hitch ourselves to the latest, greatest, freshest sound in order to remain 'on top,'" Manson wrote.

Later, Manson appeared to take a dig at the 37-year-old rapper's marriage to reality star Kim Kardashian, skewering people who believed that "being famous is the holy grail or the answer to a … meaningful life."

"Clearly you are unable to wrap your head around the idea that some musicians actually prefer NOT having to perform on Children's TV shows. Who do NOT want to be gossiped about in the popularity contest columns," the message said.

"Who most definitively do NOT want to be chased by paparazzi and who do NOT want to put their family name to some s—-y, poorly made product in order to build a 'brand.'"

Manson signed the missive, "So now then, sir, that all said, Go F— yourself."
When someone is a disappointing asshole best just to remember "the wind picked up and he couldn't hold on to himself" #sadreally

— Garbage (@garbage) March 9, 2015