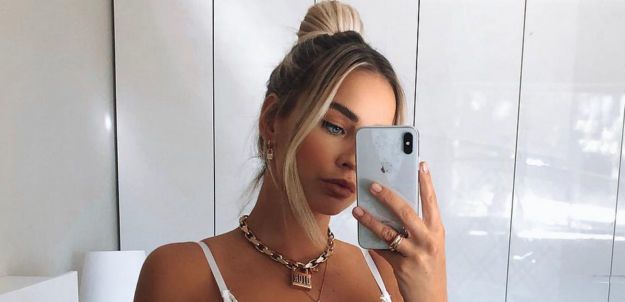 The recent post of Madi Edwards has had her fans pinned to the sensational picture that she recently uploaded. The Australian stunner has several modeling contracts up her sleeve right now. But she seems to have engaged herself in getting a boasting tan. She always posts incredible pictures on Instagram for her viewers and this post was equally amazing.
Madi was seen in lacy black lingerie. The model was posing in a white bathroom in front of a mirror. Her carved body looked remarkable in a black bra and panties of the same color. The cleavage through the bra is has left her fans awestruck. The lace lingerie suits her perfectly trimmed body. The panties sit high on her hips, adding to the sensuality of her hour-glass body. In her pose, she strikes a sensual pose by putting out her hip out. Her tanned body, slender hands and slim long legs compliment her beauty. You can also see a thin bracelet in one of her hands.
The model is promoting Bali Body, which is a line of natural tanning creams and lotions. You can see a bottle of Bali Body kept just beside her in the picture. Her flawlessly tanned skin gives an impression that the product has worked for her dreamily.
There are more than 600,000 fans of Madi on her Instagram. The numbers seem to be growing by the day. Her stunning pictures have definitely gained a lot of attention from the viewers.
Fans left a lot of interesting comments on Madi's picture. Comments like – Perfect hottie, Holy hot stuff, Beautiful creation of God are commonly left by her fans on her posts. Even the female fans admire her and some of them left comments like – You look incredible and said that Madi's great figure was body goals for her.
Madi has a whole of the modeling contracts and she has been flaunting her body for some of the famous brands such as City Beach Australia, Mura Boutique and Bras N Things. Skimpy bikinis don't scare Madi Edwards because the Australian beauty has the body to showcase. She is not hesitant to wear bold bikinis because they suit her sculpted body. Moreover, it seems to be working well for her career because the model's hands are full with several contracts.
Her contracts let her travel to beautiful places. She was recently seen in Fiji, where she clicked and posted several pictures of her on her social media account. Madi had posted a revealing bikini back then in June when she was in Fiji.
The pretty model with blue eyes was born in Australia on July 6, 1995. Madi Edwards is a professional model and also an entrepreneur with a retail shop named Marli. You will find leggings, swimwear and crop tops at her shop.
Madi clicks beautiful shots of her, which instantly gets likes and comments. Fans look forward to her pictures on Instagram.
Last update was on: September 7, 2023 1:46 pm