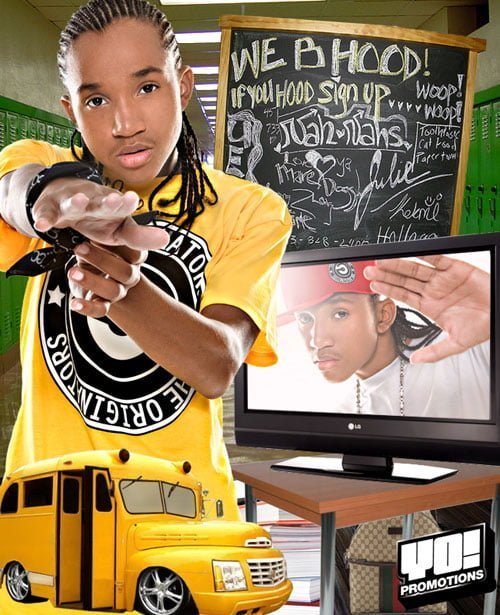 Street Genius Music is proud to announce the release of "The Freshman", the first major release from "The Young Teen Prince Of Hip-Hop" J. McCoy directly from the streets of California. "The Freshman" will be available in stores and online on Tuesday, December 22, 2009.
"The Freshman" boasts an incredible array of music from street anthems to radio singles including guest appearances from heavyweights such as MIMS, Ca$his, Keak Da Sneak, Kenex, King Pen and Troy Cashis with production from PoPo Da Don, Hallway Productionz, St. Nick, Rikanatti, Krazy Jay, Authentic, Marcole, and D. Scorch'd.
The first track "Heartbreaker (feat. Kenex)" is an infectious Hip-Hop banger that will be serviced to all media outlets soon.
About "The Freshman", J. McCoy says: "I'm looking forward to my first major project and can't wait for my fans and all Hip-Hop enthusiastic to give it a listen. I'm excited to get this album out!"
"The Freshman" will be J. McCoy's benchmark release to date so make sure you get in at your favorite online retailer on December 22, 2009.
J. McCoy, born February 28, 1994, has been mimicking Rap recordings since his early ages and is hailed by industry insiders and media as the leader of the new school on the West Coast. At age 8, McCoy landed a lead role in Tupac Shakur's music video "Thugz Mansion" featuring Nas. McCoy's first mark in Hip-Hop was the release of his single from the Walt Disney Records movie soundtrack "Jump In" (2007). The song was quickly certified Gold in just one month, putting the young rapper on tour with The Jonas Brothers, and other popular Disney acts.
Besides his music career, J. McCoy is ready to takeover the big screen. Always sharpening his skills, he attends acting school and is looking forward to the release of his first feature film "Caught On Tape", co-staring with Vivica A. Fox, Kirk "Sticky Fingaz" Jones and Cedric The Entertainer.
"The Freshman" Tracklisting:
1. Heartbreaker ft. Kenex
2. Everywhere ft. Keak Da Sneak
3. Shoe Game
4. She Cute
5. School Spirit
6. Circle One ft. King Pen
7. Got Cake ft. MIMS
8. Feelin' Presidential
9. Game Sewed Up
10. True MC ft. Ca$his
11. Work It
12. Teenage Crush
13. That Dude
14. Bonus Track: She Cute (Remix)