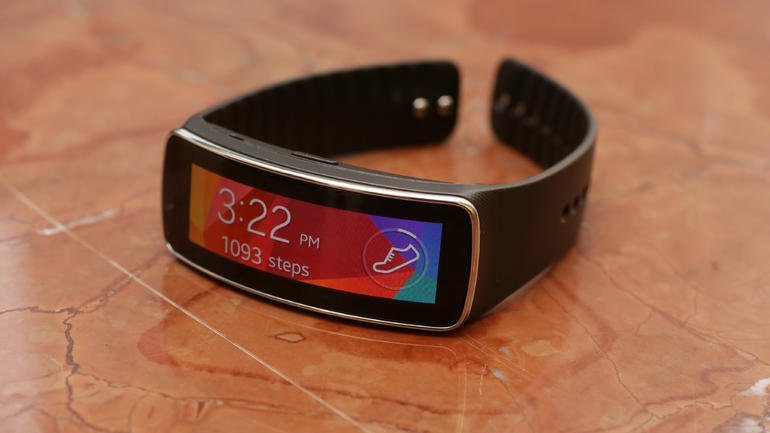 Samsung's earlier offerings in terms of smart watches have been the Gear 2 and Gear 2 Neo. The earlier designs were much like the competitors, like Garmin and Nike Fuelband. But Samsung is putting its money on the unique Gear Fit. This Samsung Gear Fit review will tell you why. The device has a curved outlook, which helps it sit comfortable on any wrist. The band has two prongs that rules out the size issue and the band is anti-allergic, which lets it be safe as well. The strap can be removed totally, as well to replace it with a different coloured or designer band. The band may fall short on features, like a camera and remote control; but it does make up for it in style and comfort.
No all people use a smart watch so much, as to need all top features included. Plus there is always that price factor, which roams around our heads all day. This device doesn't support music storing as well, but I still love it. The device looks drop dead gorgeous and adds to the style quotient to anyone wearing it. It is ultra light and one often forgets he's wearing it at all. The $199 price tag is quite justified, I feel for what it brings to the table.
Samsung Gear Fit review and Features
The original device featured a horizontal screen layout due to its design. But soon enough they brought out an update, to change it as per the user's choice. This was much appreciated by the buyers because the width of the device is much smaller than that of the finger, and reading messages on the horizontal layout; is a pain sometimes. And when the vertical length is longer than that of the horizontal, then why not go for the former design. Samsung has beautifully combined a smart, stylish and fitness watch and made it into one device. The look itself is to die for. It has:
A 1.85 AMOLED display
Curved Design
Water and dust resistant
These features are great and right up there with the stalwart competitors. Powering up and using the Gear Fit, demands a Samsung mobile device at all times. And Samsung have no intentions to open it up for other, any time soon. People using Samsung devices are lucky then. The layout and design does make it look a bit larger than its contemporaries but it doesn't feel enormous on the wrist due to its curvature and light weight design.
This smart or rather fitness watch is cleverly targeted at the young folks who do not demand highly configured features, but just want to own a smart watch nonetheless. The way it looks on the wrist is brilliant and will definitely win anyone over. That is its Unique Selling Proposition. Going all the way this is what Samsung has planned. This Samsung Gear Fit review was written only after rigorous testing on the devices, panned out over a few days.