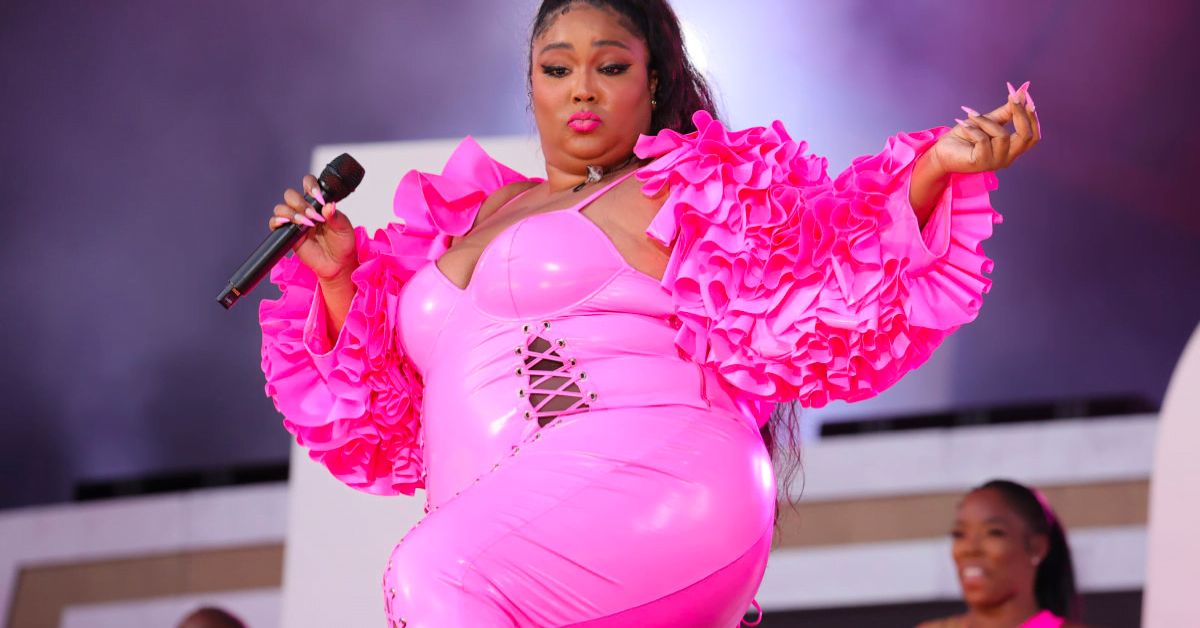 In the world of music, Lizzo has carved a distinct name, her fame growing rapidly from days of near-homelessness to a celebrated singing career.
Once forced to reside in her vehicle, she has now unveiled four full-length albums and been awarded four esteemed Grammy Awards, mirroring her remarkable rise in the music scene.
A vital advocate for embracing body image, she is a highly skilled flautist, celebrated for her vibrant musical compositions and rhythmic rap verses.
Her achievements extend to numerous award-winning albums, the establishment of her personal line of shapewear, a multitude of profitable endorsements, and the possession of valuable properties.
Melissa Viviane Jefferson, recognized as Lizzo, was welcomed into this world on April 27, 1988, and raised alongside two brothers and sisters in Detroit, Michigan.
In her younger years, she was deeply enamored with classical tunes and, it's said, began to learn the flute while in her sixth grade in Minneapolis.
She honed her talent so adeptly that it eventually won her a scholarship to the University of Houston, where she focused on musical performance.
Though her aspirations were rooted in a classical music career, her path eventually led her elsewhere.
Her first studio album, "Lizzobangers," emerged in 2013, greeted with favorable critiques and a favorable rating of 85 on Metacritic.
The subsequent year, she had the honor of collaborating with the renowned Prince at his legendary Paisley Park residence and studio.
In 2014, she made an appearance in Prince's "Plectrumelectrum," and from that moment, her career only ascended.
Celebrity Net Worth, a website that monitors famous individuals' fortunes, estimates Lizzo's wealth to be an impressive USD 40 million, a substantial increase from the USD 12 million of the previous year.
Her income as an exceptional rapper and flute artist is predominantly sourced from music sales.
Her portfolio includes four albums, extended plays (EP), and mixtapes, which as of 2023, have resulted in 20.5 million certified digital sales, positioning her amongst the industry's top earners.
After "Lizzobangers," she released "Big GRRRL Small World" in 2015, which received overwhelmingly favorable reactions.
That same year, she put out her first major EP, "Coconut Oil," featuring six tracks including the 4x Platinum hit "Good As Hell," which also accumulated over 10 million streams on Spotify.
By this stage, she had attained notable fame and secured a contract with Atlantic Records.
2019 saw the launch of her third album, "Cuz I Love You," which catapulted her to stardom, debuting impressively on various charts, and achieving Platinum status in early 2020, with sales exceeding 1.36 million copies.
One track, "Truth Hurts," dominated the Billboard Hot 100 chart for weeks, ranking No. 23 on the US R&B chart and achieving 7x Platinum status.
In that same year, her music video for "Juice" was awarded Best Video Of The Year at the Soul Train Music Awards, and her album, "Cuz I Love You," won Album/Mixtape Of The Year.
This album, her debut under a major music label, solidified her position as a formidable musical talent.
She received her first Grammy Award in 2020 for Best Pop Solo Performance, along with two other Grammys, earning eight nominations in total, and also secured a Billboard Music Award and a BET Award.
Her fourth studio album, "Special," was unveiled in 2022, reaching No.1 on the Billboard Top Album Sales chart, with 39,000 copies sold within the first week, and earning her a Grammy Award for Record Of The Year for the track "About Damn Time."
The exact amount gained from album sales is undisclosed, but it is reasonable to infer that these sales have substantially contributed to her financial standing.
Calculating Lizzo's earnings from music might be complex, as her income fluctuates based on releases and tours, but her concerts generate vast attendance and revenue.
Her earnings are further supplemented by ticket and merchandise sales and her own production house, Big Grrrl Big Touring, Inc.
Her "Cuz I Love You Tour" in 2019 crossed continents, and Billboard estimated its earnings at USD 8.8 million.
Her return to touring in 2022 with "The Special Tour" generated around USD 66.5 million, according to Touring Data.
Lizzo's sensational voice and captivating flute performances continue to draw crowds, thus significantly enhancing her financial status.