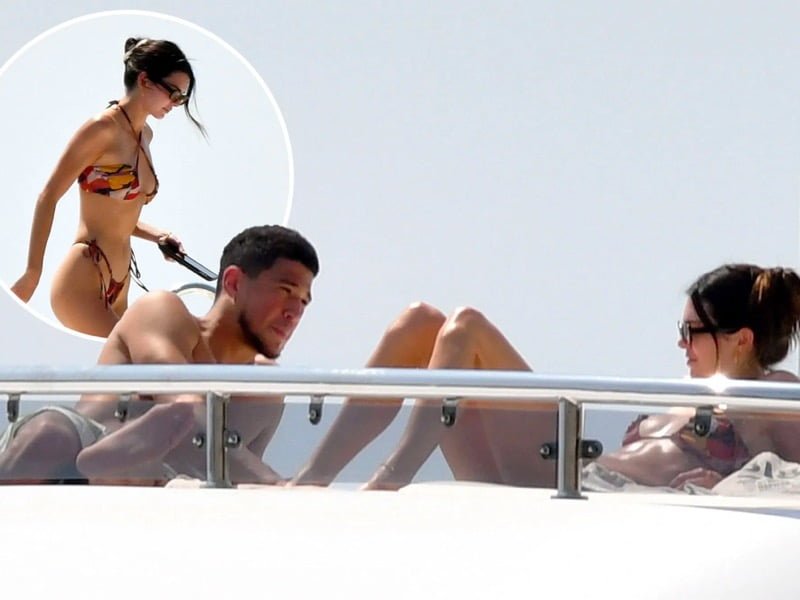 Kendall Jenner posted a few images on Instagram showing her and her basketball player boyfriend, Devin Booker, during their August 2021 European trip. You will find a carousel of photos of the "Keeping Up with the Kardashians" star also circulating online via various media outlets, exhibiting the couple relishing intimate moments together in Italy.
In one of the pictures, you will see Kendall taking her chic fashionista sense to Italy, wearing a brown maxi skirt that complemented her abs-bearing patterned crop top perfectly. The other photos the 25-year-old model shared revealed the expensive wines and scrumptious pasta meals she and her friends enjoyed together.
One of Kendall's shared pictures showed her promoting a product from her 818 tequila taken aboard a yacht. Finally, you will sense that strong romance between Kendall and Devin as the 24-year-old Phoenix Suns shooting guard cuddled her girlfriend and gave her the look of love as she leaned her body on him.
Another photo also showed the couple on a wall overlooking the breathtaking sunset visible over the Amalfi Coast in Southern Italy. Kendall, who has more than 188 million Instagram followers to date on her account with the handle @kendalljenner, appeared smitten to have her boyfriend wrap his hunky arms around her.
With these latest booed-up photos shared online, Kendall and Devin have reportedly been dating for one year. A close source recently disclosed that the couple's relationship is getting stronger than ever.
Moreover, a showbiz insider shared on E! that Kendall's family is happy for her. The Kardashian-Jenner clan reportedly loves Devin and is aware of how good they are for each other.
Additionally, you can sense a bright future in Kendall and Devin's romantic relationship as her family reportedly loves the basketball player around and has warmly welcomed him with open arms. Kendall's family also reportedly appreciates seeing the Los Angeles-born media personality and socialite very happy with her boyfriend, who brings out the best in her.
Kendall and Devin confirmed that they are not placing any kind of pressure on things for the future as they realize they are both still young and have huge futures ahead of them. For now, the young couple is merely relishing their time together and taking things as they come.