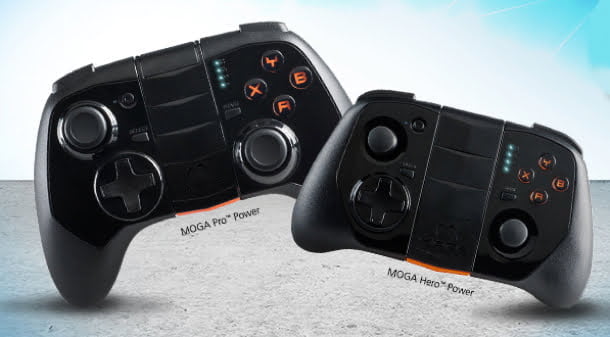 Gaming on mobile phones is obviously a great way to past time but us serious gamers have typically been left out– until now that is. With the launch of the Moga Pro Power and Moga Hero Power series controllers–serious gaming on at least your android phone or tablet has finally become a reality.
Back in April we reviewed the Moga Pro controller, although it had a few notable features making playing games on your mobile phone instantly more enjoyable– there was still a lot of room for improvement. This time around PowerA released two new controllers– the Moga Pro Power and Moga Power Hero and the dedication to improve upon the previous versions is obvious with all-around upgrades seen on both controllers. Some of the best new features include a larger internal battery, multiplayer gaming and the ability to charge your phone while in use– allowing you to play games without draining your battery.
Both controllers features Moga Boost– with this technology you can to attach the controller to your phone so that it charges while playing your games. This means you can enjoy your games for longer periods of time without the typical drain on your battery. In our Opinion this is one of the best selling points of the new controllers.
Another notable feature is the ability to play along with up to four of your friends simultaneously. Each controller has four lights which indicate the players 1 -4. If you connect your phone or tablet to a television via HDMI this will give you a true console experience. If you are worried about lag– that has been improved in this iteration to the point that we never experienced a noticeable lag while playing.
The Moga Pro Power is the larger of the two– making it the easy choice for the serious gamer with an appetite for gaming on the go. The Hero is the slimmer– more portable sibling that makes mobile gaming even more convenient due to it's smaller size. Improvements include the four shoulder buttons instead of two, clickable analog sticks and longer batter life.
Both controllers are priced competitively at 59.99 for the Hero Power and $79.99 for the Pro Power.