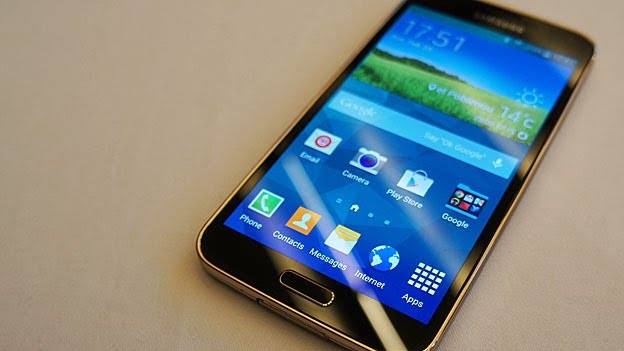 The Galaxy series from Samsung has never ceased to amaze, since its initial days of the S and S2. Even the S2 advance was a brilliant handset. Keeping to tradition, Samsung always makes it a point to do their best on Galaxy phones. These are phones, which are extremely popular all around the world. The craze actually went global with the S3, which boasted of features that were never before seen or heard of. The S4 went on to be so big that stocks ran out on pre-booked orders themselves. The S3 and S4 had set up the scene for the final and biggest move by Samsung yet. The launch of the S5 has been a long wait for fans.
It is now out and pre bookings are on. Samsung's TVC about the phone speaks about normal features and leaves everything else; to surprise. Hence, the needs for a good Samsung Galaxy S5 review. People obviously do not want to buy devices, about which they know nothing. But there's actually no saying with what Samsung has done in the past years. It has created a massive fan following all over the planet and on its way to be number 1; has taken out a few competitors out of business already.
The Much Awaited Specifications and Technicalities
The S5 is 5.1inch device, which weighs in at 145 grams. Well, that's definitely not a feature people were waiting to hear. Here's more:
Rated IP 67 like the Sony Xperia go, fully dust resistance and water resistant up to 1 meter for 30 minutes.
A newly added fingerprint sensor certified by Paypal itself. This is a feature exclusive to the S5.
Super AMOLED display with 16m colour output boasting of a resolution of 1080×1920 pixels and a pixel density of 432ppi.
Protection is handled by the shatterproof and scratch proof Corning Gorilla Glass 3.
The Android is the latest 4.4.2 Kitkat and the classic touchwiz UI is present.
The internal storage capabilities vary from 16-32GB and are expandable up to 128 GB.
The RAM is maxed out at 2GB.
Qualcomm MSM8974AC Snapdragon 801 chipset powered by a quad core 2.5GHZ krait 400 processor.
An Adreno 330 Graphical Processing Card for smooth gaming and running games like real racing 3 and FIFA 14.
Heart rate sensor and gesture controls have also been added.
16MP rear camera shooting at a max resolution of 5312×2988 pixels, with LED flash and obviously autofocus. HDR mode included for photography buffs.
2mp front camera.
2800MAH battery to keep the phone running all day, without the need to travel with a charger.
The device is priced at nearly $1000, making it a truly premium range device and will be looking to take on the LG G2 Pro. The few extra features and the ones special to Samsung might just give it an edge, over the LG; but one can never say as this is just a Samsung Galaxy S5 review. The main battle shall be waged in the market.