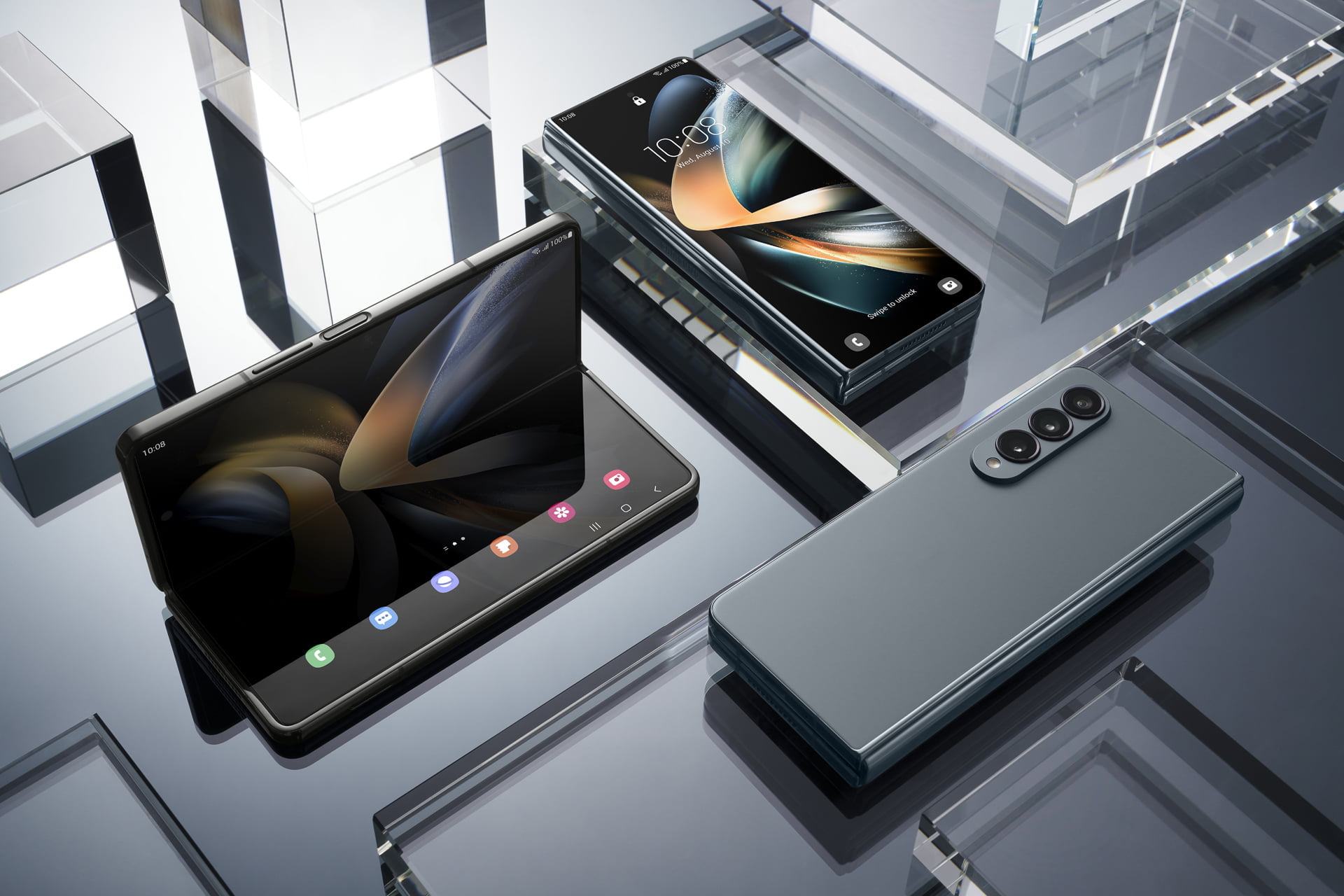 Samsung has taken a significant leap forward with its fourth-generation foldable phone, the Galaxy Z Fold 4. It boasts a new taskbar that enhances multitasking, a wider front screen, a brighter main display, and an upgraded 50MP camera. Despite drawbacks such as its hefty price, weight, under-display camera, and visible crease, the Samsung Galaxy Z Fold 4 is a foldable phone worth investing in. In this review, we'll explore all its features, specifications, pros, and cons and answer whether it's a phone you should buy.
Design and Display
The Samsung Galaxy Z Fold 4's unique design sets it apart from traditional smartphones. The device has a flexible 7.6-inch QXGA+ AMOLED main display that can be folded down the middle to reveal a smaller 6.2-inch HD+ AMOLED cover screen. The cover screen is slightly wider than its predecessor, providing better functionality when using it one-handed. The device's front and back are made of Gorilla Glass Victus, which provides added durability and protection against scratches and accidental drops.
When folded, the device measures 155.1 x 67.1 x 15.8mm and weighs 263g. It's a bit thick and heavy, making carrying it uncomfortable in your pocket. However, the thickness is necessary to accommodate the foldable design.
The main display offers a refresh rate of 120Hz, providing a smooth scrolling experience. The display's resolution of 374ppi and color accuracy is excellent, making it suitable for watching videos, playing games, or multitasking. There's a visible crease down the middle of the screen where the device folds, but it's less noticeable than its predecessors.
The new taskbar is one of the most significant improvements in the Samsung Galaxy Z Fold 4. It allows users to easily access their most-used apps, contacts, and settings. The taskbar also includes split-screen functionality, allowing users to run two apps simultaneously on the main screen.
Camera
The Samsung Galaxy Z Fold 4 has a total of five cameras: a 50MP wide-angle camera, a 12MP ultra-wide-angle camera, a 10MP 3x telephoto camera, a 10MP front-facing camera, and a 4MP under-display camera. The primary camera has been upgraded to 50MP, providing better photo detail and color accuracy. The ultra-wide-angle camera also offers a wider field of view, making it ideal for landscape and group photos. The telephoto camera provides up to 3x optical and 10x digital zoom.
The front-facing camera has a resolution of 10MP and can capture good selfies in daylight. However, it struggles in low-light conditions, producing images with much noise. The under-display camera has a resolution of just 4MP, which is disappointing. While it's an innovative feature, it's still not at the level of traditional front-facing cameras regarding image quality.
Performance and Battery Life
The Samsung Galaxy Z Fold 4 is powered by a Qualcomm Snapdragon 8+ Gen 1 processor with 12GB of RAM. It provides excellent performance, allowing users to run multiple apps simultaneously without lagging or stuttering. The device comes with three storage options: 256GB, 512GB, or 1TB.
The device runs on One UI 4.1 based on Android 12L, providing an excellent user interface that's easy to navigate. It also includes several Samsung-exclusive features like Samsung Pay, Bixby, and Samsung DeX.
The Samsung Galaxy Z Fold 4
The upgraded camera on the Samsung Galaxy Z Fold 4 is another major highlight. It boasts a 50MP wide camera, 12MP ultra-wide camera, and a 10MP 3x telephoto lens. The rear camera module includes a 10MP front camera and a 4MP under-display camera. This impressive array of cameras allows users to capture stunning photos and videos. The under-display camera is a new addition to the Galaxy Z Fold 4, providing a more seamless look to the front screen.
One of the most significant selling points of the Galaxy Z Fold 4 is its improved battery life. The device is equipped with a 4,500mAh battery, which is larger than the battery found in the previous model. The battery life has been extended further by implementing the new One UI 4.1 operating system based on Android 12L. This software upgrade provides a more efficient user experience, improving battery life and overall performance.
In terms of connectivity, the Samsung Galaxy Z Fold 4 is top-of-the-line. It features 5G connectivity, dual sim, eSIM, USB-C, WiFi 6E, NFC, and Bluetooth 5.2. These connectivity features make it easy to stay connected to the internet and other devices, no matter where you are.
There are, of course, a few drawbacks to the Galaxy Z Fold 4. Firstly, it is still quite pricey. While the device has some impressive features, the price tag may be a barrier to entry for some users. Additionally, the device is thicker and heavier than traditional smartphones, making it less portable than some users may like.
Another issue is the under-display camera, which has a resolution of only 4MP. While it does provide a more seamless look to the device's front screen, it may not be as impressive in terms of photo quality as the other cameras on the device. Lastly, the crease on the flexible display is still visible, although Samsung has made some improvements to minimize it.
Overall, the Samsung Galaxy Z Fold 4 is an impressive device that offers users a unique and innovative experience. Its larger screens, improved camera, longer battery life, and advanced connectivity features make it a smart choice for power users and tech enthusiasts. While it does have a few drawbacks, including its high price tag and slightly bulky form factor, the Galaxy Z Fold 4 is a standout device that pushes the boundaries of what a smartphone can be.
Pros:
New taskbar improves multitasking
Wider front screen
Brighter main display
Upgraded 50MP camera
Longer battery life
Cons:
Still very pricey
Thick and heavy
Under-display camera is just 4MP
Crease still visible