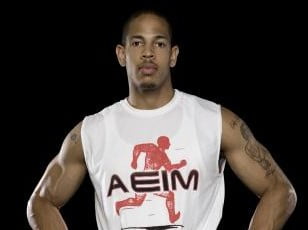 Dedication and Consistency: Two words that has equaled success for not only trainer Rahman Grayson, but his clients as well.
Grayson is the founder of AEIM (Athletes and Entertainers in Motion) a full service personal fitness training organization that features fitness training, nutrition counseling, massage therapy, and a recently implemented life coaching division.
Grayson's Shut Up and Train Philosophy has attracted the likes of singer Ciara, NFL All-Pro running back Edgerrin James and Super Bowl Champion James Butler and many others. Grayson's hard-core fitness training philosophy started in college.
"I guess you can say I fell right into it in college," said Grayson. An injury in high school caused him to be in the hospital for several months with a broken leg that ended up infected. Although, he would fight through the injury to continuing playing in college, he admits he wasn't the same athlete as before.
"After that (the injury) I still continued to play, but not at the same level I played before," he said. "So, I decided sports professionally wouldn't be for me."
Grayson decided it was best for him to just get his degree and move forward. He would get certified as a trainer to make some extra money on the side while he worked for a pharmaceutical company. In the meantime, he would start formulating ideas and writing out his business plan.
"I worked a pharmaceutical job for about a year, but I wasn't happy," he said. "I decided to follow my dreams and my passion."
Grayson says he now wakes up and enjoys what he does for a living which is helping people achieve their health and fitness goals. Part of the reason he is successful in business is because of his parents who taught him not only morals and values, but discipline as well.
Grayson believes in an intense motion style type of training which encompasses compound movements, total body activities, and multi-joint movements.
But in order to get to where most people who come to him for help want to be, consistency is the key. According to Grayson, that starts with making good healthy choices and dedicating yourself to a healthy lifestyle as well.
All those things equal better results. That's one reason Grayson is known for being the fitness guru to the stars because he gets results. But his training isn't just for celebrities; it's for anyone who wants to get in shape.
"I am a trainer for whoever is serious and wants an intense workout," he said. "When they dedicate and commit themselves to the program, results come."
Grayson said he helped one client go from nearly 400 pounds to 206 within a year's time. Now, the client who couldn't even walk around a building, a year later can run 10 miles.
Grayson says he believes in results and not excuses. He also believes in his own 80/20 rule.
"Live clean and eat clean 80 percent of the time and the other 20 percent, eat what you want and enjoy life."
For those of you who are ready to get in shape, but not quite reading to go hard-core, Grayson recommends taking things slow and setting small goals for yourself then once you achieve those goals, celebrate and then set higher goals.
In the end there are no magic pills, diets, or formulas to becoming healthy, just commitment to hard work, dedication, and consistency.
"To get to where you have never been, you must do what you have never done."
Good advice for anyone not only trying to be healthy, but for anyone trying to achieve their dreams as well.