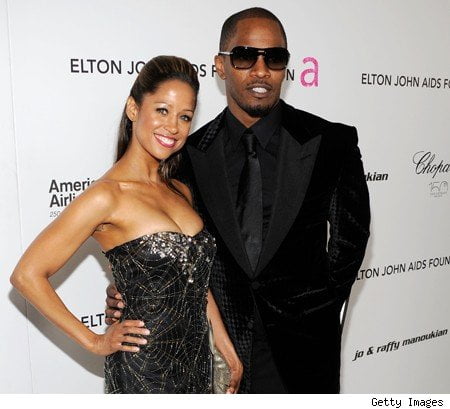 With Spring steadily approaching, the time has come upon some to seek out a new love interest.
As for Jamie Foxx, the time may have arrived earlier than expected.
The Grammy and Oscar Award winner has been the topic of choice around the blogosphere for his Oscar "date" with 'Clueless' star, Stacey Dash, leaving many to ponder the question as to whether or not the two are an official item. Or better yet, how did all of this manifest while Dash is married?
Well apparently, the 2006 Playboy cover girl has thrown in the towel with her third husband (of two and half years), Emmanuel Xuereb. The actress announced the revealing news on March 5 during an appearance on Foxx's Sirius XM radio show 'The Foxxhole,' stating the couple have "grown apart" over the past three years.
Dash's appearance on the popular radio show has also managed to leverage her very segment on 'Foxxhole,' according to Foxx. "She did our radio show, and they are going to give her own show on Foxxhole Radio, XM 149," he revealed to the Extra television show during Vanity Fair's Oscar party, "and we decided to come out and enjoy the night."
He added: "We are on a date…She's the hottest, and I'm just hanging with her."
Whether or not the "date" was professional or personally remains to be seen, although insiders tell a different story.
"They looked very much like an item, and Jamie was introducing her to everyone," one insider told the Daily News. "They seemed to be thoroughly enjoying each other's company.
"Before Sunday night, no one had ever seen them together or heard that they even knew each other," the source snitched.
If in fact the two are "dating" on the down low, Dash's slim, petite physical frame may be a change for what Foxx usually looks for in a woman. In a Jan. 2005 interview with GQ magazine, the 'Ray' actor described what type of women he prefers, in addition to being anti-commitment.
"I like big-boned women," he said. "I like curves. I like to feel them. That's what drives me. That southern build. That's the realness."
"I'm a man," he continued. "Jesus Christ. Of course I got a commitment problem! Any man that tells you he doesn't have a commitment problem, he's lying. The way I see it, you stay uncommitted and you die an old, lonely m.f. Or you stay committed and you die a miserable m.f."
Dash, 44, is a Bronx, NY native who got her acting start on 'The Cosby Show.' She has starred in the movies 'Gangs of Roses,' 'Nora's Hair Salon II' and Robert Townsend's 2008 Sonny Liston biopic 'Phantom Punch.'
Formerly married to R&B crooner Christopher Williams, the beauty is the first cousin of Damon Dash, the former CEO and co-founder of Roc-A-Fella Records.
Most recently, Dash starred on the popular CW sitcom 'The Game' before its cancellation.
BV